Is Your Name Right For You?
Free Name and Birth Date Report
The energies in your names create your life, your personality, your likes and dislikes, your ideals, and the conditions and experiences you will attract.
In your free Name and Birth Date Report you will find out about the powerful energies contained in your: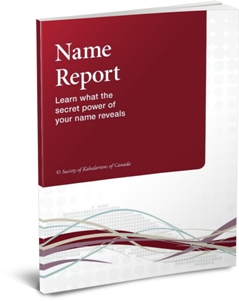 first name
last name
combined names
legal names
business signatures
nickname
life purpose and inner potential measured from your date of birth
destiny summary
For over 90 years, the Kabalarian Philosophy has been helping people like you to understand the powerful energies that are contained in names and how adverse conditions can be changed. We offer you a free Name and Birth Date Report so that you can see firsthand how your qualities have created your thinking and the conditions in your life. Adverse conditions can be changed. You may want to take advantage of our paid Balance Name Recommendation services. Life can be amazingly beautiful and happy when you realize what is holding you back and how you can break the barriers to find the complete expression of your true life's purpose.
Your report will be emailed to you as a link to a PDF document within 5 minutes. This is a free service provided by the Society of Kabalarians.
Privacy of Your Names, Birth Date, and Email
We know you are trusting us with your personal information. We take this responsibility very seriously. Your name and birth date information is kept totally confidential and is used only in preparing your Name and Birth Date Analysis. The Society of Kabalarians does not sell, trade, exchange, disclose, or distribute your personal information or email address in any way whatsoever. If you are under 18 be sure to obtain your parent(s) or guardian(s) permission before you send any personal information to us.
[+ Show Detailed Name Report Ordering Instructions]
Order Form - Name and Birth Date Report
Thought for the Day