Welcome to the Calgary Centre Home Page
If you haven't already taken the opportunity, please visit our website at www.kabalarians.com and order your free Name Report. Get a multi-page analysis of your full name, nickname, business signature, and birth date, which determines your birthpath or natural purpose in life.
If you wish to receive notices by email or be removed from our mailing list, please email calgarycentre@kabalarians.com with your email address or phone 403-246-0926, or fax 403-242-8420.
Garett and Ronaye Willington
Kabalarian Philosophy - Calgary Centre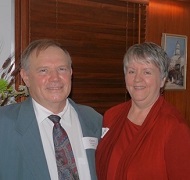 Location:
2618 Richmond Road SW
Calgary, AB T3E 4M4
Canada
Tel: (403) 246-0926
Representatives:
Local Events
Contact the center directly for coming events
Please click here for complete organization event details in all centers.
Thought for the Day