Is the Name of

Ilidia

Helping or Hurting You?
---
All names are not equal. The names you use create your life experiences. Find out how all the names you use and the energy they create have shaped your life in a free Name and Birth Date Report. Life can be better, find out how.

Your name Ilidia has developed traits of independence and positivity. You desire to assume a leadership role where you can organize projects and be responsible for the systematic flow of work. This name makes you very matter-of-fact, materialistic, and practical, but extremely capable, efficient, self-confident, and decisive. You will not tolerate dominance by others, nor do you appreciate having your independence curtailed. Being organized is important to you and you would expect this same quality from others who work with you. You could be demanding and shrewd in money matters. If someone owes you money, you appreciate being paid back promptly and in full, and yet you can be very generous when you see the need. To be successful, to have a good standard of living, and to be a good provider are important to you, and are a reflection of your ambitious, aggressive qualities. You would neglect home duties at times to ensure success in your business enterprises.

You are quite strong-willed, and do not readily change your opinions. It is difficult for you to bend your will to others. Misunderstanding with others have occurred when they have regarded you to be forceful, unsympathetic, and self-centred. You tend to be focused on whatever you are doing and undaunted by obstacles. You use originality and ingenuity to accomplish your projects and you do enjoy a challenge.

You are matter-of-fact and very candid in your expression. It is not easy for you to express emotional sentiments and compliments that mean so much to sensitive, idealistic people. It makes you feel awkward and embarrassed. You know what is expected, but the words do not come easily. You try to avoid those situations and thus the impression is left with others that you seem too prosaic and unfeeling. Others can feel somewhat intimidated by your authoritative, confident manner at times.

Unless they are a part of your background, you tend not to be particularly interested in the arts or music for their aesthetic value; but if drawn into these fields, you would contemplate commercializing your talents or you would consider how they could be turned into a lucrative business. Even when you were a youngster, your thoughts turned to making money. It is important that you guard against schemes that are for increasing profit at the expense of others in some way.

You often think about how you could promote the talents of others. You are loyal in friendships, not easily influenced by the opinions or actions of others. You are dependable and unchangeable once you have reached your decisions and committed yourself. You do not tend to be a temperamental nature and can handle a great deal of responsibility.

Tension and stress affect the senses of the head such as the eyes; headaches, sinus problems, or generative troubles could arise.


Do You Want Something Better?
You have a unique inner potential. With your first breath, a spiritual essence and purpose became a part of you and gave you life, caused your heart to beat, and your systems to work, and activated your physical growth. Your particular date of birth determines your unique core purpose, the reason for your life, and the pathway you should follow for ultimate happiness.
Whether your inner potential fully expresses depends upon the names you use!
Are the Names You Use Holding You Back?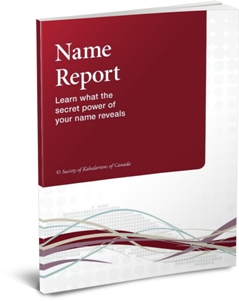 Find out how your life is influenced by all the names you have used. We will analyze your unique inner potential from your date of birth and the names you use in your free Name and Birth Date Report:
Mental/personality strengths and weaknesses
Material and financial success
Key issues in your life that might be holding you back
Personal happiness
Ability to create long-term relationships
Ability to fulfil your inner potential as measured by the date of birth
Why Request your Free Name Report?
The first step in improving your life is to understand why all the names you names use are such a compelling force. A free Name and Birth Date Report will show the effect of all the names you have used:
first name
last name
nicknames
combined names
legal names
business signatures
previous names
All the Names You Use Are Important
The reason for the form below being comprehensive is that all the names you use or have used have impacted your personality and have shaped the conditions in your life. For us to give you the best analysis, and for you to understand the full importance of this principle, complete all the names which apply to you. If you do leave something out you can revise your free Name and Birth Date Report later. We do not share or give this information to anyone.
Your free Name Report will be emailed to you within 5 minutes.
Order Form - Free Name and Birth Date Report
We Are Here To Help
We thank you for your interest and we look forward to talking with you further about the Kabalarian Philosophy after you have read your Name and Birth Date Report. If you require further assistance, please call our head office using our toll free number of 1-866-489-1188 (or 604-263-9551 outside of North America.)
Thought for the Day